RV Paint Repair Body Repair Mesa Scottsdale Tempe Gilbert Chandler
Keep your RV in peak condition by fixing any issues as soon as possible. You can count on us to take care of your RV during the restoration process and provide high-quality results.
A complete range of RV repairs
Fiberglass repair

Scratch Repair

Faded Paint Repair

Plastic Repair

Cosmetic Repair

Metal Repair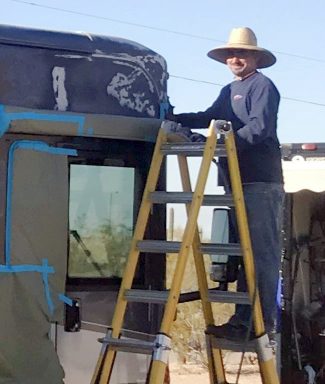 Get ready for that road trip
Planning a family vacation? Restore your RV to its original condition and get on the road! We can do all external repairs to your fiberglass, metal, plastic, and paint to make your rig look like new, on the road, in a driveway, or in a campground.
We make it especially convenient for those needing RV Paint Repair Body Repair Mesa Scottsdale Tempe Gilbert Chandler.
We come to you so you don't need to drive your RV anywhere. Most repairs are done same day, and we work right there, right where it is parked!
Here is our little secret (shhh don't tell anyone!) – we use paint that dries in about 2 minutes and it is ready for sanding and finishing in 30 minutes. This way the dust won't get to it, and your are on your way on the same day!
Pretty amazing, right? If you have an RV that needs some body work or some paint touch-up or painting, the mobile auto body shop of Touch Up Pro can come to the rescue! Call us today at 480-570-9885.
24-hour response for RV repairs
From fiberglass repairs to fixing faded paint, we are available 24 hours at your service. Our rates are affordable and our services dependable. Speak to Touch-Up Pro today!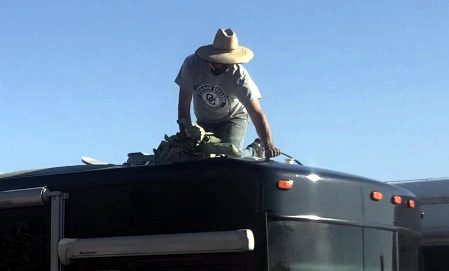 Touch-Up Pro of Mesa, AZ guarantees the repairs for as long as you own the vehicle!
Call us for a FREE estimate on RV paint repair and body repair in Mesa Scottsdale Tempe Gilbert Chander.
You can get your needed exterior repairs done – we have extensive knowledge about repairing RV paint and body issues, and we are sure to meet your expectations!
Call 480-570-9885 today!